Udyam Assist Platform: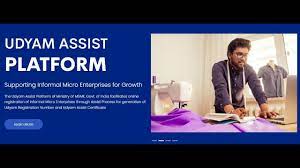 As per latest data, the government's new Udyam Assist Platform (UAP) has 35 lakh units registered as of August 3, 2023.
The Government launched UAP under the MSME formalization project on 11.01.2023 to bring Informal Micro Enterprises (IMEs) under the formal ambit for availing benefits under Priority Sector Lending.
The platform has been developed by the Small Industries Development Bank of India (SIDBI).
The Government of India has clarified that IMEs are those enterprises which are unable to get registered on the Udyam Registration Portal (URP) due to lack of mandatory required documents such as Permanent Account Number (PAN) or Goods and Services Tax Identification Number (GSTIN).
A large number of IMEs aren't registered under GST.
To facilitate such IMEs to get a registration certificate through Assist mode of Designated Agencies (Das) such as banks/ NBFCs/MFIs, who have information about IMEs available with them.
The certificate issued on the Udyam Assist Platform (UAP) would be treated at par with Udyam Registration Certificate for IMEs for availing of the benefits of Priority Sector Lending (PSL).