National Space Day : 23rd Aug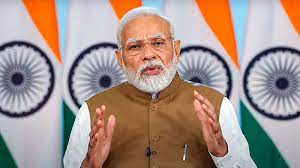 According to PM Modi, India will observe August 23 as "National Space Day" to commemorate the success of Chandrayaan-3.
Prime Minister Narendra Modi commended ISRO scientists for inspiring a generation and creating a lasting impression on children's brains while speaking to a group of ISRO scientists in Bengaluru.
At the ISRO Telemetry Tracking and Command Network Mission Control Complex in Bengaluru, Karnataka, the Prime Minister was speaking to scientists.
According to experts, India's space sector would grow to $16 billion in a few years from $8 billion, said PM Modi.
With the successful landing of the Chandrayaan 3 mission on the moon, all eyes are on the next phase of the Moon mission i.e., the Chandrayaan-4 Mission or Lunar Polar Exploration Mission (Lupex), which will be jointly launched by the Indian Space Research Organisation (Isro) and the Japan Aerospace Exploration Agency (JAXA).