India-Brazil-South Africa (IBSA) Women's Forum Meeting: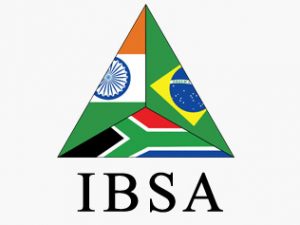 The Sixth India-Brazil-South Africa (IBSA) Women's Forum meeting was held virtually.
India is the current chair of the IBSA Dialogue Forum.
Highlights from the Meeting:
Recalled that the Year 2020 marked-
The 25th anniversary of the Beijing Declaration and Platform for Action (BDFA): The 1995 Beijing Platform for Action flagged 12 key areas where urgent action was needed to ensure greater equality and opportunities for women and men, girls and boys. It also laid out concrete ways for countries to bring about change.
The 5th anniversary of the adoption of the 2030 Agenda for Sustainable development & Sustainable Development Goals (SDG): Goal 5 aims to eliminate all forms of discrimination and violence against women in the public and private sphere.
The 20th anniversary of UNSC RESOLUTION 1325 on women, peace, and security.
A Decade since UN WOMEN was established: UN Women is the United Nations (UN) organization dedicated to gender equality and the empowerment of women. It was established in 2010.
Lauded the efforts of the Government of India in helping out other countries to overcome the challenges posed by the Covid-19 pandemic by providing vaccines, masks, sanitizers, PPE Kits, etc.