Rivers Of India Facing Metal Pollution : Center For Science And Environment Report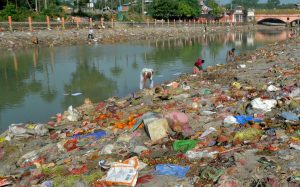 The Center for Science and Environment has reported that rivers of India are facing severe metal pollution.
Three out of every four river monitoring stations in India have observed alarming levels of heavy toxic metals such as lead, iron, nickel, cadmium, arsenic, chromium and copper.
Heavy Metals:
Heavy metals may be defined as elements with an atomic number larger than 20 and an atomic density greater than 5 g cm-3 that must possess metal-like characteristics. Example: arsenic, cadmium, chromium, copper, lead, manganese, mercury, nickel, uranium etc.
Heavy metal pollution has been caused in our rivers, soils, and environment as a result of rapidly growing agriculture and metal industries, improper waste management, heavy use of fertilizers, and pesticides.
Agricultural and industrial operations, landfilling, mining, and transportation are the primary sources of heavy metals in groundwater.
Through the agricultural water runoff heavy metals reach upto river.
Discharge of wastewater from industries (like the tannery industry which is a big source of chromium heavy metals) directly into river bodies intensified the severity of the heavy metal pollution.
Heavy metals have the property of long persistent in plants, animals and environment.