Noise Pollution: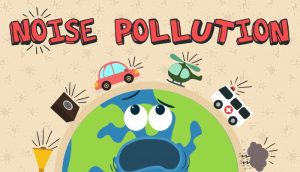 An ultimatum by Raj Thackeray, president of the Maharashtra Navnirman Sena (MNS), that repercussions would follow if speakers on mosques were not removed by May 3, has created political turmoil in the state.
The Maharashtra government is relying on provisions of The Noise Pollution (Regulation and Control) Rules, 2000 to negotiate the controversy over the use of loudspeakers by mosques.
As per the Central Pollution Control Board's mandate for noise pollution, 'noise' is defined as unwanted sound. Sound, which pleases the listener, is music and that which causes pain and annoyance is noise.
Section 2 (a) of the Air (Prevention and Control of Pollution) Act, 1981 includes noise in the definition of 'air pollutant'.
Noise pollution and its sources are regulated under The Noise Pollution (Regulation and Control) Rules, 2000 under The Environment (Protection) Act, 1986.
Noise pollution Rules have defined the acceptable level of noise in different zones for both daytime and nighttime.
In industrial areas, the permissible limit is 75 decibels (unit of sound; tenth of a 'bell', symbol dB) for daytime, and 70 dB for night.
Daytime is defined as the period from 6 am to 10 pm, and night is 10 pm to 6 am of the following day.