Roshni Act: Jammu And Kashmir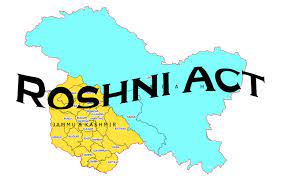 A year after the High Court struck down the Roshni Act, the Jammu and Kashmir government has now begun an exercise to retrieve the land granted under this Act to beneficiaries.
There are allegations related to irregularities in the implementation of the Jammu and Kashmir States Land (vesting of ownership to the occupants) Act, also known as Roshini Act, which has now been declared null and void.
On November 1, 2020, the Union Territory administration cancelled all land transfers that took place under the JK State Land (Vesting of Ownership to the Occupants) Act, 2001.
About the Roshini Act:
Enacted in 2001, the law sought to regularise unauthorised land.
The Act envisaged the transfer of ownership rights of state land to its occupants, subject to the payment of a cost, as determined by the government.
The government said the revenue generated would be spent on commissioning hydroelectric power projects, hence the name "Roshni".
Further, through amendments, the government also gave ownership rights of agricultural land to farmers occupying it for free, charging them only Rs 100 per kanal as documentation fee.
In 2009, the State Vigilance Organisation registered an FIR against several government officials for alleged criminal conspiracy to illegally possess and vest ownership of state land to occupants who did not satisfy criteria under the Roshni Act.
In 2014, a report by the Comptroller and Auditor General (CAG) estimated that against the targeted Rs 25,000 crore, only Rs 76 crore had been realised from the transfer of encroached land between 2007 and 2013, thus defeating the purpose of the legislation.
The report blamed irregularities including arbitrary reduction in prices fixed by a standing committee, and said this was done to benefit politicians and affluent people.