What Is SAIME Initiative?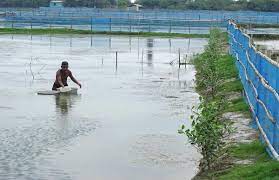 Under Sustainable Aquaculture In Mangrove Ecosystem (SAIME) initiative, farmers have taken up cultivation of shrimp at 30 hectares in West Bengal.
The community-based initiative of sustainable shrimp cultivation is being conceived by NGOs- Nature Environment and Wildlife Society (NEWS) and Global Nature Fund (GNF), Naturland, Bangladesh Environment and Development Society (BEDS).
Additionally, they are restoring mangroves.
The mangrove ecosystem is integrated with shrimp cultivation, but when fisheries were expanded inwards, the mangrove ecosystem was excluded.
Fishing, particularly shrimp cultivation, is one of the key occupations of the people of Sundarbans, which is a complex network of rivers and low-lying islands that face a tide surge twice a day.
Shrimp cultivation is practised in about 15,000 to 20,000 hectares of the unique ecosystem in India.