General Elections 2019 – An Atlas: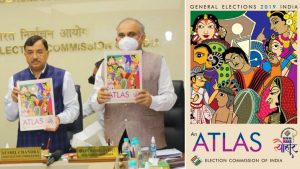 Chief Election Commissioner, Shri Sushil Chandra along with Election Commissioner Shri Rajiv Kumar and Election Commissioner Shri Anup Chandra Pandey released 'General Elections 2019 – An Atlas' on June 15, 2021.
17th General Elections conducted in 2019 were the largest democratic exercise in human history which witnessed the participation of 61.468 crore voters at 10.378 lakh polling stations spread over 32 lakh square kilometer territory of India.
In the 23 States and UTs women voting percentage was more than the male voting percentage
The 2019 General Elections witnessed the lowest gender gap in the history of Indian elections.
The Elector Gender Ratio which has shown a positive trend since 1971 was 926 in the 2019 General Elections.
The Election Commission of India set up over 10 lakh polling stations in General Elections 2019 with the lowest number of electors per polling station (365) in Arunachal Pradesh.
The overall polling percentage in the last parliamentary election, including postal ballots, was 67.4%, which is the highest ever turnout in a Lok Sabha poll.