World Heritage Institute Of Training and Research – Asia Pacific: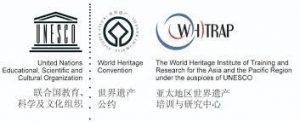 The World Heritage Institute of Training and Research – Asia Pacific (WHITR-AP) has recognised CEPT (Centre for Environmental Planning and Technology, Gujarat) University's programme in conservation and regeneration as a commended case of Global Innovation on World Heritage Education.
The World Heritage Education Programme was initiated as a United Nations Educational, Scientific and Cultural Organization (UNESCO) special project in 1994.
It gives young people a chance to voice their concerns and to become involved in the protection of common cultural and natural heritage.
The WHITR-AP is a non-profit organization specialized in the area of heritage conservation.
It is an institute under the auspices of UNESCO, it is the first one established in the developing countries.
It is an autonomous institution at the service of member states and associate members of UNESCO.
Mission:

To strengthen implementation of the World Heritage Convention 1972 in the Asia and the Pacific region.
World Heritage Convention:
It is one of the most important global conservation instruments which was created in 1972.
Its mission is to identify and protect the world's natural and cultural heritage considered to be of Outstanding Universal Value.
It sets out the duties of States Parties in identifying potential sites and their role in protecting and preserving them.
By signing the Convention, each country pledges to conserve not only the World Heritage sites situated on its territory, but also to protect its national heritage.
The Convention is governed by the World Heritage Committee supported by the UNESCO World Heritage Centre, the secretariat for the Convention, and three technical advisory bodies to the Committee:

International Union for Conservation of Nature (IUCN)
International Council on Monuments and Sites (ICOMOS)
International Centre for the Study of the Preservation and Restoration Cultural Property (ICCROM)

India is a signatory to the convention and has 40 world heritage sites, which includes 32 cultural, 7 natural and one mixed property.
Ramappa Temple in Telangana was the 39th and Dholavira in Gujarat was India's 40th world heritage site.