INS Viraat: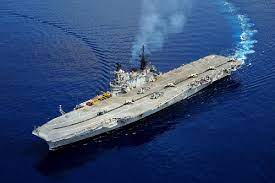 INS Viraat, the Navy's decommissioned aircraft carrier, has become the "private property" of a ship-breaker who has already torn down 40% of its body, chiefly for scrap, the Supreme Court told a private company, that wants to turn the vessel into a maritime museum-cum-adventure center.
On February 10, the court had ordered a stay in the process of dismantling the ship.
The carrier was bought by the Gujarat-based Shree Ram Group, a ship-breaking firm, in a bid.
The 67-year-old iconic warship was towed to the breaking yard after over three decades' service in the Navy.
INS Viraat was a Centaur-class aircraft carrier of the Indian Navy.
INS Viraat was the flagship of the Indian Navy before INS Vikramaditya was commissioned in 2013.
The ship was completed and commissioned in 1959 as the Royal Navy's HMS Hermes, and decommissioned in 1984.
It was sold to India in 1987.
INS Viraat was commissioned into the Indian Navy in 1987 served till 2016 when it was decommissioned.