Civil Defence Volunteers: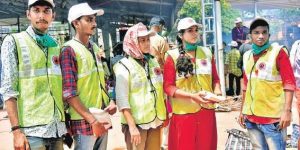 The Delhi Police recently issued a statement, pointing out that civil defence personnel, also known as Delhi Civil Defence (DCD) volunteers, have no power to stop people using police barricades and prosecute them for violation of Covid-19 appropriate behaviour such as not wearing masks.
From being lauded for their work during the pandemic to facing allegations of high-handedness, the role of the civil defence volunteers in the national capital has come under intense scrutiny in the recent past.
One such incident recently turned into a full-blown fistfight between a group of civil defence personnel and the general public near IIT-Delhi.
In Delhi, these are men and women who work under the command of the district magistrates.
The overall command lies with the divisional commissioner, to which the DMs report.
These volunteers are governed by the Civil Defence Act, 1968.
According to the Civil Defence Act, 1968, civil defence is defined as any measure "not amounting to actual combat, that protects persons, property and places in India from hostile attack".
The 2010 amendment expanded the definition by including disaster management as one of the responsibilities.
The basic role of the volunteers:
To assist the local administration. During the pandemic, the volunteers assumed the role of frontline workers by way of participating in screening hotspots and distributing food for the needy.
In recent months, DCD volunteers have also been deployed to ensure social distancing in markets and other crowded places and also at vaccination sites.