Uttarkashi Tunnel Collapse: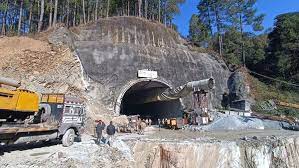 Union Territories (UTs) and cities in Northeastern states find themselves in the lower ranks of the Smart Cities Mission progress.
According to data from the Housing and Urban Affairs Ministry as of November 3, approximately 22% of total projects (1,745 out of 7,947) are still ongoing.
These ongoing projects account for 33% of the total cost (Rs 57,028 crore out of Rs 1.70 lakh crore).
The majority of projects, numbering 6,202, have been successfully completed.
Data from November 10 highlights Surat (Gujarat) as the top-performing city in terms of project completion, fund utilization, and other criteria within the Smart Cities Mission.
It is followed by Agra (UP), Ahmedabad (Gujarat), Varanasi (UP), and Bhopal (MP) in the top five.
Other cities in the top 10 include Tumakuru (Karnataka), Udaipur (Rajasthan), Madurai (TN), Kota (Rajasthan), and Shivamogga (Karnataka).