Second Floating Jetty: Union Minister For Ports, Shipping & Waterway: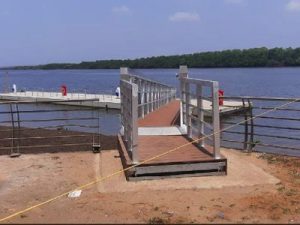 Union Minister for Ports, Shipping & Waterways inaugurated the second floating jetty at Old Goa.
The jetty will offer safe, hassle-free transportation to tourists.
The Minister lauded the work done by the Government of Goa in making the tourism sector a growth engine of the state.
The Government of India has approved the setting up of two Concrete floating jetties on River Mondovi (NW-68) to connect Old Goa and Panjim.
This is the second floating jetty constructed on River Mondovi (NW-68).
Earlier, the first jetty located at Captain of Ports, Panjim Goa was inaugurated in February 2020 at Panjim.
Concrete floating jetties have many advantages over the fixed jetties.
Their price is approximately 1/5th of the price of a fixed jetty.
Similarly, they are quicker to build and install, easier to use.
The designed life of a floating jetty is up to 50 years.
Also, being floating structures they don't need CRZ clearances.
They can be increased in size or reduced as per changes in users' requirements or the changes in the jetty site's hydrographic profile.