Second Global Summit On Covid-19: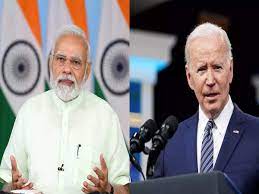 The Second Global Summit on COVID-19 was recently held virtually.
The summit was co-hosted by the United States, Belize, Germany, Indonesia, and Senegal.
Theme of the Second Global COVID Summit: Preventing Pandemic Fatigue and Prioritizing Preparedness.
Objectives of the Second Global Summit on COVID-19:

To accelerate efforts to increase global vaccine coverage.
To enhance access to tests and treatments.
To protect the health workers.
To ensure health security for future health crises.

India said it will continue efforts to extend the coverage of COVID-19 booster doses to eligible populations and strive towards complete vaccination coverage for India's adult population.
India highlighted the increased funding allocated for the health sector in the recent budget and said that it will increase the number of integrated public health labs, as well as bio-safety labs.
India also said that it is committed to supplying vaccines to neighboring countries and will share COVID-19 genomic data.