The Economic Community of West African States (ECOWAS):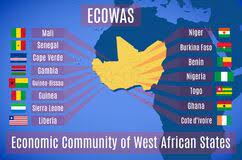 The Economic Community of West African States (ECOWAS) is attempting to mediate to solve the crisis in Mali.
Since 1960, when Mali gained independence from France, there have been five coups — and only one peaceful transition from one democratically elected president to another.
Recent coup: Nine months ago, President Ibrahim Boubacar Keita was overthrown in the wake of mass anti-government protests. Last week, the announcement of a new cabinet was made that excluded two key military leaders. Following this, the army has detained the President and the Prime Minister.
About ECOWAS:
It is a regional political and economic union of fifteen countries located in West Africa.
Established in 1975, with the signing of the Treaty of Lagos.
The goal of ECOWAS is to achieve "collective self-sufficiency" for its member states by creating a single large trade bloc by building a full economic and trading union.
It also serves as a peacekeeping force in the region.
Considered one of the pillar regional blocs of the continent-wide African Economic Community (AEC).
ECOWAS includes two sub-regional blocs:

The West African Economic and Monetary Union is an organization of eight, mainly French-speaking states.
The West African Monetary Zone (WAMZ), established in 2000, comprises six mainly English-speaking countries.