Seema Darshan Project: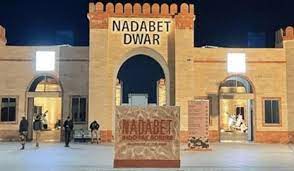 Prime Minister Narendra Modi has urged the citizens to visit Nadabet and other border areas as part of Seema darshan to further tourism.
It was initiated with the aim to provide an opportunity to the people so that they can visualize the life and work of the Border Security Force (BSF) personnel on our border.
Nadabet is located in the Rann of Kutch region. It is also known as the 'Wagah of Gujarat'.
The access provided to civilians at Nadabet to view the fenced international border with Pakistan at 'Zero Point'.
Nadabet played a key role in the 1971 Indo-Pakistan War. It was in this region that the BSF not only stalled the enemy trying to invade from the west, but also captured 15 enemy posts.
During the war, the BSF had captured 1,038 square km of Pakistan territory in Nagarparkar and Diplo areas. The area was returned to Pakistan after the Shimla Agreement was signed.
Jaislamer: BSF has set up a unique memorial museum named Seema Darshan to create awareness about the duties of BSF to the general public and the incidents of bravery at Sam sand dunes in Jaislamer.