Falcon Heavy Rocket: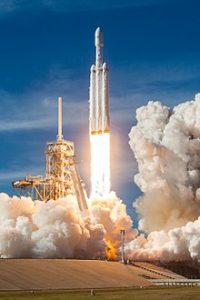 On November 1, Elon Musk-owned SpaceX launched the Falcon Heavy rocket into a geosynchronous Earth orbit from the Launch Complex 39A at the Kennedy Space Center in Florida, U.S.
This is considered as a National Security Space Launch for the U.S. military.
This is the fourth launch of the giant rocket system, and the first one in nearly three years since its last launch in 2019.
SpaceX claims Falcon Heavy to be the most powerful rocket in the world today by a factor of two.
With a lifting capacity of around 64 metric tonnes into orbit, Falcon Heavy can lift more than twice the payload of the next closest operational vehicle, the Delta IV Heavy.
Falcon Heavy has 27 Merlin engines which together generate more than five million pounds of thrust at lift-off, equalling around eighteen 747 aircraft at full power.
The rocket can lift the equivalent of a fully loaded 737 jetliner, complete with passengers, luggage and fuel, to orbit.
Merlin is a family of rocket engines developed by SpaceX for use on its Falcon 1, Falcon 9 and Falcon Heavy launch vehicles.
Merlin engines use RP-1 and liquid oxygen as rocket propellants in a gas-generator power cycle.
These engines were designed for recovery and reuse.