Senna Spectabilis : Plan To Eradicate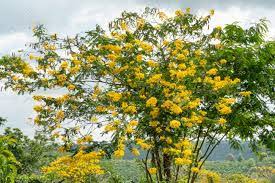 The Nodal Centre for Biological Invasions (NCBI) at the Kerala Forest Research Institute (KFRI) has recently come out with a management plan to eradicate Senna spectabilis.
Based on the results of the experimental study done at the Periyar Tiger Reserve, the plan envisages landscape-level management of the tree.
The two key factors considered in developing the management protocol were the fast nature of the spread of the tree in natural forests, and the restoration of natural forests based on landscape.
Senna spectabilis is an invasive species.
It is introduced as an ornamental species and for use as firewood from South and Central America.