International Day Of Sign Languages: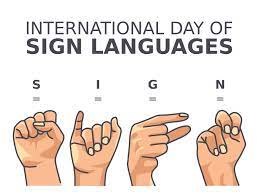 Indian Sign Language Research and Training Centre, an autonomous body under the Department of Empowerment of Persons with Disabilities, celebrated 'Sign Language Day'.
International Day of Sign Languages (IDSL) is celebrated annually across the world on 23 September.
This year's theme was "Sign Language Unite Us."
Objective of this day is to protect the linguistic identity and cultural diversity of all deaf people and other sign language users.
ISLRTC launched the Indian Sign Language Dictionary (ISL Dictionary) in 2021 which is being used by deaf people, special teachers, parents of deaf children, linguists etc.
To make this ISL dictionary easily accessible, ISLRTC along with Federal Institute of Science and Technology (FISAT), Kerala has developed an Indian Sign Language Dictionary APP known as 'Sign Learn'.