Russia-Ukraine Conflict: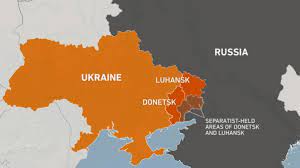 The US intelligence reports said the tension on the Russia-Ukraine border represents a major security crisis for the region, with the potential to snowball into a broader conflict.
Ukraine says that Russia has amassed around 90,000 troops at the border.
Ukraine and Russia share hundreds of years of cultural, linguistic and familial links.
For many in Russia and in the ethnically Russian parts of Ukraine, the shared heritage of the countries is an emotional issue that has been exploited for electoral and military purposes.
As part of the Soviet Union, Ukraine was the second-most powerful Soviet republic after Russia, and was crucial strategically, economically and culturally.
Cause of Conflict:
Balance of Power: Ever since Ukraine split from the Soviet Union, both Russia and the West have vied for greater influence in the country in order to keep the balance of power in the region in their favour.
Buffer Zone for Western Countries: For the US and the European Union, Ukraine is a crucial buffer between Russia and the West.
As tensions with Russia rise, the US and the EU are increasingly determined to keep Ukraine away from Russian control.
Russian Interest in Black Sea: The unique geography of the Black Sea region confers several geopolitical advantages to Russia.
Firstly, it is an important crossroads and strategic intersection for the entire region.
Access to the Black Sea is vital for all littoral and neighboring states, and greatly enhances the projection of power into several adjacent regions.
Secondly, the region is an important transit corridor for goods and energy