Skalzang Rigzin : The first Indian Mountaineer To Climb Mount Annapurna Peak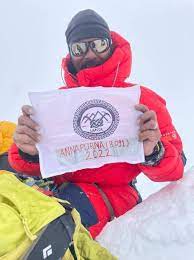 Skalzang Rigzin, the first Indian Mountaineer to climb Mount Annapurna peak without supplemental Oxygen, received a warm welcome in Leh.
With 16 days of gap between climb of Mt Annapurna on April 28 and Mt Lhotse on May 14, Skalzang Rigzin has set a record to summit two peaks without oxygen supplements.
Annapurna is a mountain situated in the Annapurna mountain range of Gandaki Province, north-central Nepal.
It is the tenth highest mountain in the world at 8,091 metres above sea level.
Mt Annapurna is one of the most difficult among the 8000 meters height peaks in the world and is also known as the Killer Mountain due to its fatality to summit rate.