Self-Amplifying mRNA Vaccine: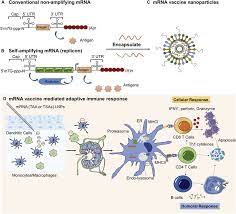 A self-amplifying mRNA vaccine — one in which the delivered RNA multiplies inside the body — has shown promising results against Covid-19 in ongoing phase 1/2/3 trials.
The vaccine, ARCT-154, has been developed by Arcturus Therapeutics Holdings, based in San Diego, California, and its trials are in progress in Vietnam.
An mRNA vaccine, such as those from Pfizer/BioNTech and Moderna, use messenger RNA that encodes the spike protein of the coronavirus.
In other words, the mRNA directs the cell to produce copies of the spike protein, so that the immune system will recognise the spike if and when actual infection takes place, and mount a response.
A self-amplifying mRNA vaccine is an improvement on the traditional RNA platform.
It encodes four extra proteins in addition to the vaccine antigen, and these enable amplification of the original strand of RNA once inside the cell.
The basic advantage is that it requires a smaller dose.