Smishing : New Scam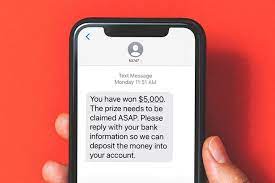 The Indian government recently warned against a new scam called 'Smishing'.
The term "smishing" is a combination of "SMS" (Short Message Service) and "phishing."
A type of phishing attack, smishing, often involves sending fraudulent text messages to individuals with the aim of tricking them into divulging sensitive personal information, such as passwords, credit card numbers, or other confidential data.
When cybercriminals "phish," they send fraudulent emails that seek to trick the recipient into clicking on a malicious link.
Smishing simply uses text messages instead of email.
Smishing attacks often involve messages that appear to be from legitimate sources, such as banks, government agencies, or well-known companies.
Smishing messages typically contain urgent or enticing content to persuade recipients to take immediate action, such as clicking on a malicious link, calling a phone number, or providing sensitive information.
Once the victim opens and clicks on the link or dials the phone number listed in the message, they're taken to a fraudulent website or a mobile phone line that's designed to resemble a legitimate source.
The victim might be asked to enter sensitive information, such as login credentials, social security numbers, credit card information or personal identification numbers (PINs).
Once the victim's sensitive information is divulged, the attacker might steal it to commit fraud for personal gain or to compromise the victim's device by installing malware on it.