Report By Parliamentary Standing Committee on Labour: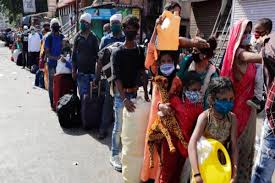 The Parliamentary Standing Committee on Labour in its report "Social Security and Welfare Measures for Inter-State Migrant Workers" praised Mahatma Gandhi National Rural Employment Guarantee Scheme (MGNREGS) for providing sustainable livelihood to the unskilled workers including the inter-state migrant labourers.
Standing Committees Observation:
MGNREGS:
The Mahatma Gandhi National Rural Employment Guarantee Act, 2005 provides for a specific and significant welfare provision, constitutive of the very idea of citizenship.
There is no "better scheme" to provide "sustainable livelihood" to unskilled workers.
Over 7 crore households (10.43 crore individuals) have already availed of the scheme and 330 crore person days have been created till February 2021 during the current financial year. This is the highest for any year since the inception of the scheme in 2006.
Migrant Workers:
1.08 crore migrant workers returned to their home states during the pandemic.
The absence of reliable and authentic data/information on the numbers of the migrant workforce and their movement back to their home States following the outbreak of the Pandemic has apparently impacted the relief and rehabilitation measures.
There were a number of appreciable initiatives launched by the Government (eg: Pradhan Mantri Garib Kalyan Yojana), which are aimed at benefiting the Migrant Labour.
However, no guidelines were issued nor enforced for distribution of relief material to stranded Migrant Labourers.
No element of Social Audit prescribed.