Special Assistance For Capital Investment Scheme: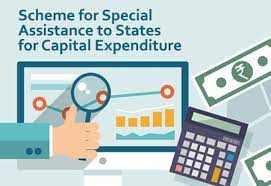 The Central Government decided to give an additional ₹2,000 crore to States under the Special Assistance for Capital Investment scheme to incentivise them to scrap old vehicles and also provide tax concessions to individuals for it.
Under this Scheme, financial assistance is provided to the States Governments in the form of a 50-year interest free loan for capital investment projects.
To avail the benefit for investments made this fiscal, states will have to submit details like name of the project, capital outlay, completion period and its economic justification to the expenditure department of the Union finance ministry.
The loan provided under the scheme will be over and above the normal borrowing ceiling allowed to the States.
Scheme allocation will be used for PM Gati Shakti related and other productive capital investmentof the States.
Besides, allocation would be made for digitisation of the economy, including digital payments and completion of optical fiber cable network, and reforms related to building bye-laws, town planning schemes, transit-oriented development, and transferable development rights.
The scheme also includes Rs 5,000 crore interest-free loans which would be provided to incentivise states to undertake privatization or disinvestment of state public sector enterprises and asset monetisation.
Such incentives to a particular state would be limited to Rs 1,000 crore.