Skill Development Training To Tharu People: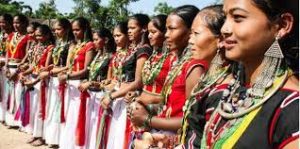 Forest department, NABARD to give skill-development training to Tharu people.
Forest officials of the Katarniaghat division say a plan is in the works for the financial inclusion of the Tharu groups that live near the Katarniaghat Wildlife Sanctuary (KWS) and are much affected by human-wildlife conflicts.
Tharu people are an ethnic group indigenous to the Terai region of the Himalayan foothills, located in southern Nepal and in the state of Uttar Pradesh in India.
Tharu in Nepal officially numbered about 1.5 million and those in India about 170,000.
They speak various dialects of Tharu, a language of the Indo-Aryan subgroup of the Indo-Iranian group of the Indo-European family, and they are largely Indian in culture.
Most Tharu practice agriculture, raise cattle, hunt, fish, and collect forest products.
Tharu use their own traditional ritual specialists in addition to the Hindu Brahman priests.
Each Tahru village is governed by a council and a headman.