Spike Non Line Of Sight (NLOS) Anti-Tank Guided Missiles: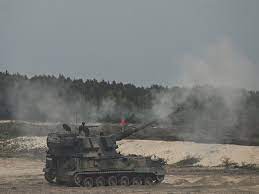 The Indian Air Force recently received Israel's Spike Non Line of Sight (NLOS) anti-tank guided missiles.
Spike Non Line of Sight (NLOS) Anti-tank Guided Missile (ATGM) is a fire-and-forget anti-tank and anti-personnel missile with a tandem-charge high-explosive warhead.
It is developed by Rafael Advanced Defense Systems, a defence technology company based in Israel.
It is available in man-portable, vehicle-launched, and helicopter-launched variants.
Spike missiles are being used by the defence forces of Israel and another 38 countries, including India, Netherlands, Germany, Italy, Peru, Spain, Belgium, Brazil, Canada, UK, Philippines, and Singapore.
It can hit targets from distances of up to 30 kilometres.
It uses an electro-optical seeker that enables the launch operator to clearly see targets, unlike missiles reliant on radar or infrared guidance.
The seeker is also coupled to a datalink that enables the launch operator to control the missile in flight to attack different parts of a tank or select another target, if not abort the strike.
It can be armed with different types of warheads suited to destroy tanks, air defence systems or for use in urban combat.