PM CARES::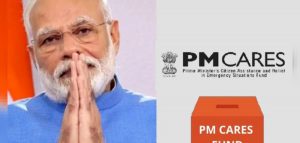 A plea was filed in the Supreme Court seeking a direction to utilise the PM-CARES fund for immediate procurement of vaccines and establishment of oxygen plants, generators and their installation in 738 district hospitals across the country.
The petition said the government should loosen its PM-CARES purse strings and help common people in accessing medical care and oxygen.
These government hospitals are easily accessible at no cost to common people of every district in the country who are desperately seeking medical oxygen as basic life-saving support.
About PM-CARES:
The Prime Minister's Citizen Assistance and Relief in Emergency Situations (PM-CARES) Fund was set up to accept donations and provide relief during the Covid-19 pandemic, and other similar emergencies.
PM-CARES Fund: PM-CARES was set up as a public charitable trust with the trust deed registered on March 27, 2020.
It can avail donations from the foreign contribution and donations to fund can also avail 100% tax exemption.
Prime Minister is the ex-officio Chairman of the PM CARES Fund and Minister of Defence, Minister of Home Affairs and Minister of Finance, Government of India are ex-officio Trustees of the Fund.