Study In India (SII) Portal: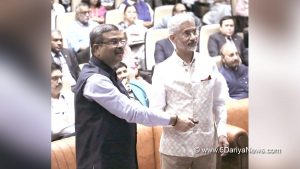 The Education Ministry recently launched the Study In India (SII) portal with a vision to promote Indian education to foreign students.
Study in India (SII) portal is a dedicated website to provide information about higher education institutions (HEIs) in India.
Aim is to establishing India as a global hub for education by welcoming students from diverse backgrounds.
It will showcase the academic programmes in the HEIs covering undergraduate, postgraduate and doctoral programmes as well courses in Indian Knowledge System (IKS) such as Yoga, Ayurveda, classical arts and more.
The portal will have information about the academic facilities, research support and related information available in the institutes.
It will be a one-stop spot for student registration, the visa application process, choosing the desired courses and receiving offer letters from the institute.
It will have the provision for students to apply in more than one institute or course of their choice.
It will offer a streamlined and well-organised application process for international students seeking higher education opportunities in India.