Strategic Partnership Council: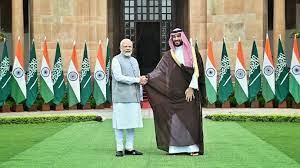 Prime Minister Narendra Modi and Saudi Arabia's Crown Prince Mohammed bin Salman (MBS) recently chaired the first meeting of the India-Saudi Arabia Strategic Partnership Council (SPC).
Strategic Partnership Council established in 2019, aims to enhance the relationship between the two countries and has two main pillars: the Committee on Political, Security, Social, and Cultural Cooperation and the Committee on Economy and Investments.
These committees have four levels of engagement, including summit-level meetings, ministerial-level discussions, senior officials' meetings, and joint working groups.
During their recent meeting, India and Saudi Arabia agreed to expedite the $50-billion West Coast refinery project and identified areas such as energy, defence, semiconductor, and space for intensified cooperation.
West Coast Refinery Project aims to set up Asia's largest refinery in Ratnagiri, Maharashtra.
It is a trilateral project between ARAMCO (Saudi), ADNOC (UAE) and Indian companies.