Stubble Burning: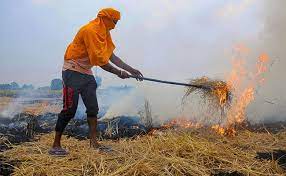 The Commission for Air Quality Management has said that a reduction in the area under paddy cultivation in Haryana, Punjab and Uttar Pradesh, as well as a shift away from paddy varieties that take long to mature, could see a reduction in stubble burning this year.
Reasons for this:
The total paddy area in Haryana, Punjab and the eight NCR (National Capital Region) districts of Uttar Pradesh has reduced by 7.72% during the current year as compared to last year.
Total paddy straw generation from the non-basmati variety of rice is likely to be reduced by 12.42% during the current year as compared to the previous year.
Both Central and State Governments of Haryana, Punjab and U.P. have been taking measures to diversify crops as well as to reduce the use of PUSA-44 variety of paddy.
Crop diversification and moving away from PUSA-44 variety with short duration High Yielding Varieties are part of the framework and action plan for control of stubble burning.
Stubble Burning:
It is a common practice followed by farmers to prepare fields for sowing of wheat in November as there is little time left between the harvesting of paddy and sowing of wheat.
Impact: Stubble burning results in emission of harmful gases such carbon diaoxide, sulphur dioxide, nitrogen dioxide along with particulate matter.