The Supreme Court : About Women In armed Force: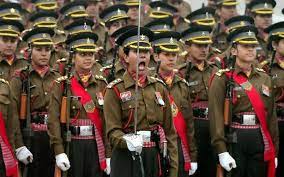 The Supreme Court held that the Army's "selective" evaluation process discriminates against and disproportionately affects women short service commission officers seeking a permanent commission.
The evaluation pattern of women officers has caused them economic and psychological harm, the court said.
The court ordered that the cases of women officers who have applied for the permanent commission should be reconsidered in a month and the decision on them should be given in two months.
They would be considered for permanent commission subject to disciplinary and vigilance clearance. The court said physical standards should be kept at a premium during selection.
Supreme court judgement of February 2020:
The Supreme Court declared that Short Service Commission (SSC) women officers are eligible for permanent commission and command posts in the Army irrespective of their years of service.
The Supreme Court dismissed the Union government's submissions that women are physiologically weaker than men as a "sex stereotype."
The court struck down a part of the government's 2019 circular that had proposed Permanent Commission to women officers if they had not completed 14 years in service. It commented that there was a "fundamental fallacy" in the centre's policy of considering only women with less than 14 years for Permanent Commission.
The verdict came on a nearly 10-year-old appeal filed by the government against a 2010 decision of the Delhi High Court to grant SSC women officer's permanent commission.