Surrogacy (Regulation) Act, 2021: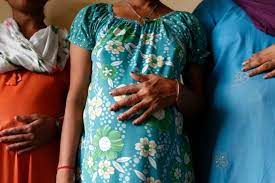 A petition was filed before Delhi High Court, challenging the exclusion of a single man and a woman having a child from surrogacy and demanded the decriminalization of commercial surrogacy.
The petitioners have challenged their exclusion from availing surrogacy under the Assisted Reproductive Technology (Regulation) Act, 2021 and Surrogacy (Regulation) Act, 2021.
The Petitioner argued that the personal decision of a single person about the birth of a baby through surrogacy, i.e., the right of reproductive autonomy is a facet of the right to privacy guaranteed under Article 21 of the Constitution.
Thus, the right of privacy of every citizen or person to be free from unwarranted governmental intrusion into matters fundamentally affecting a decision to bear or beget a child through surrogacy cannot be taken away.
Surrogacy (Regulation) Act, 2021:
Provisions:
Under the Surrogacy (Regulation) Act, 2021, a woman who is a widow or a divorcee between the age of 35 to 45 years or a couple, defined as a legally married woman and man, can avail of surrogacy if they have a medical condition necessitating this option.
It also bans commercial surrogacy, which is punishable with a jail term of 10 years and a fine of up to Rs 10 lakhs.
The law allows only altruistic surrogacy where no money exchanges hands and where a surrogate mother is genetically related to those seeking a child.