Swachh Survekshan 2021: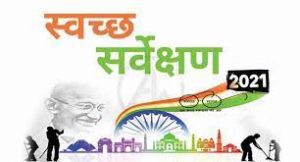 The Ministry of Housing and Urban Affairs (MoHUA) has launched the seventh consecutive edition of Swachh Survekshan (SS), the world's largest urban cleanliness survey conducted by Swachh Bharat Mission-Urban (SBM-U).
Designed with 'People First' as its driving philosophy, Swachh Survekshan 2022 is curated towards capturing the initiatives of cities for the overall welfare and well-being of frontline sanitation workers.
The survey, flavoured with the Azaadi@75 spirit, will also give priority to the voices of senior citizens and young adults alike and reinforce their participation towards upholding the cleanliness of urban India.
SS 2022 has incorporated specific indicators that drive cities to improve working conditions and livelihood opportunities for sanitation workers in urban India's sanitation journey.
The survey is set to protect India's ancient legacy and culture by nudging citizens to take ownership and initiative to clean urban India's monuments and heritage spots.
This year's Survekshan is committed to creating a level playing field for smaller cities by introducing two population categories under 15K and between 15-25K.
To further expand the Survekshan footprint, district rankings have been introduced for the first time.
The scope of the survey has been expanded to now cover 100% wards for sampling, as compared to 40% in previous years.
Swachh Survekshan:
Launched by PM Modi in 2016.
It is meant to monitor the performance of Swachh Bharat Abhiyan, which was launched on October 2, 2014, the 150th birth anniversary of Mahatma Gandhi.
It was also aimed at inculcating a spirit of healthy competition among cities towards becoming India's cleanest cities.
The Quality Council of India (QCI) is in charge of evaluating the performance of the participating cities. This is an autonomous accreditation body which was set up by the Government of India in 1997 for quality assurance in all fields, including governance.