Taam Ja Blue Hole Discovered: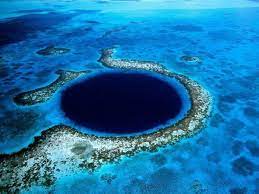 Scientists have discovered a massive blue hole off the coast of the Yucatan Peninsula in Mexico.
It is a type of underwater sinkhole or vertical cave that is typically found in low-lying coastal karst platform regions.
These are formed when limestone or other carbonate rock is dissolved by slightly acidic groundwater over a long period.
Taam Ja Blue hole is around 900 feet deep and scientists have dubbed it the second-deepest blue hole found on the planet.
It has a nearly circular shape at its surface with steep sides that form a large conic structure covered by biofilms, sediments, limestone, and gypsum ledges.
It was found in the central portion of Chetumal Bay, where submerged coastal karstic sinkholes locally named 'pozas' have been reported.
A series of discontinuous terraces were detected at water depths, near the eastern and north-western walls of the blue hole before developing steep and almost vertical slopes.
There is variation in salinity and temperature inside the blue hole.
Yucatan Peninsula is a Northeastern projection of Central America which is lying between the Gulf of Mexico to the west and north and the Caribbean Seato the east.
The peninsula is almost wholly composed of beds of coralline and porous limestone rocks.