Targets Released To Curb Malnutrition: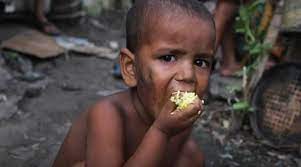 The Ministry of Women and Child Development has released targets to Curb Malnutrition in India.
Aims at reducing stunting and under-nutrition (underweight prevalence) among children below 6 years by 2% each year.
Aims to Reduce, low birth weight by 2% per annum, Anaemia among children between six and 59 months, as well as women and adolescent girls (15 to 49 years), by 3% per annum.
Anaemia is a medical condition in which the blood doesn't have enough healthy red blood cells.
Highlighted the NFHS-5 Report, which comprises of detailed information on key domains of population, such as:
health and family welfare, fertility, family planning, infant and child mortality, maternal and child health, nutrition and anaemia, morbidity and healthcare, women's empowerment etc.
Findings of the NFHS-5:
Data on Stunted Children:
Meghalaya has the highest number of stunted children (46.5%), followed by Bihar (42.9%).
Maharashtra has 25.6% wasted children (weight for height) — the highest — followed by Gujarat (25.1%).
Jharkhand has the highest percentage of women (26%), between 15 and 49 years, who have a below-normal Body Mass Index (BMI).
Other Findings:
The Total Fertility Rates (TFR), an average number of children per woman, has declined from 2.2 to 2.0 at the national level between NFHS-4 & 5.
Overall Contraceptive Prevalence Rate (CPR) has increased substantially from 54% to 67% in the country.
Institutional Births have increased substantially from 79% to 89% in India.
Stunting has reduced from 38.4% to 35.5%, wasting from 21.0% to 19.3% and underweight prevalence is down from 35.8% to 32.1%.
Women (15-49 years) whose BMI (Body Mass Index) is below normal has reduced from 22.9% in NFHS-4 to 18.7% in NFHS-5.