Technology For Air Quality Monitoring System: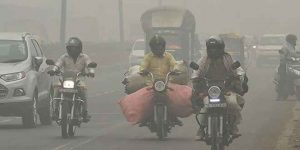 Under the 'National programme on Electronics and ICT applications in Agriculture and Environment (AgriEnIcs)'– the Centre for Development of Advanced Computing (C-DAC), in collaboration with TeXMIN, ISM, Dhanbad has developed an outdoor air quality monitoring station to monitor environmental pollutants.
It will monitor parameters like PM 1.0, PM 2.5, PM 10.0, SO2, NO2, CO, O2, ambient temperature, relative humidity, etc., for continuous air quality analysis of the environment.
The new Air Quality Monitoring System (AI-AQMS v1.0) will soon be available for a wider market as the new technology is already transferred to JM EnviroLab for further commercialization and deployment in different mining and cement industries.
MeitY also launched the technology for biosensing systems for the detection of Endocrine Disrupting Chemicals in aquatic ecosystems (MEAN) for qualitative and quantitative analysis of EDC content in water bodies.
Endocrine-disrupting chemicals (EDCs) are substances in the environment (natural– air, soil, or water) or manufactured (man-made) products that interfere with the normal function of the body's endocrine system.