3rd Joint Logistics Node (JLN):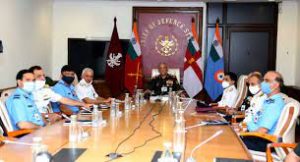 Chief of Defence Staff General Bipin Rawat operationalized and dedicated to the Armed forces the 3rd Joint Logistics Node (JLN) in Mumbai.
These JLNs will provide integrated logistics cover to the Armed Forces for their small arms ammunition, rations, fuel, general stores, civil hired transport, aviation clothing, spares and also engineering support in an effort to synergize their operational efforts.
The establishment and operationalisation of JLNs is a very important first step in the direction of logistics integration of our three Services. The JLN would enhance joint inter-operability between the Services.
The Joint Operations Division (JOD) under the aegis of Headquarters Integrated Defence Staff (Hq IDS) enabled establishment of the JLNs
Government Sanction Letter for establishment of JLNs in Mumbai, Guwahati and Port Blair was signed on October 12, 2020.
The JLNs in Guwahati and Tri-Services, Andaman and Nicobar Command, Port Blair were operationalised on January 01, 2021.