Ecologically Sensitive Zones : Protests In Kerala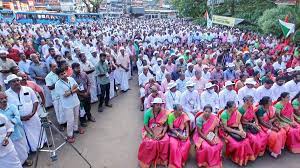 The creation of the Ecologically sensitive zones (ESZ) has sparked protests in Kerala and can be a hint of what is likely to occur in other parts of the country.
Eco Sensitive Zones:
The National Wildlife Action Plan (2002-2016) of the Ministry of Environment, Forest and Climate Change (MoEFCC) stipulated that state governments should declare land falling within 10 km of the boundaries of national parks and wildlife sanctuaries as eco-fragile zones or Eco-Sensitive Zones (ESZs) under the Environmental (Protection) Act, 1986.
While the 10-km rule is implemented as a general principle, the extent of its application can vary.
Areas beyond 10 km can also be notified by the Union government as ESZs, if they hold larger ecologically important "sensitive corridors".
Activities Around ESZs:

Prohibited Activities: Commercial mining, saw mills, industries causing pollution (air, water, soil, noise etc), establishment of major hydroelectric projects (HEP), commercial use of wood.
Regulated Activities: Felling of trees, establishment of hotels and resorts, commercial use of natural water, erection of electrical cables, drastic change of agriculture system, e.g., adoption of heavy technology, pesticides etc, widening of roads.
Permitted Activities: Ongoing agricultural or horticultural practices, rainwater harvesting, organic farming, use of renewable energy sources, adoption of green technology for all activities.