Tejaswin Shankar's Bronze In High Jump : Commonwealth Games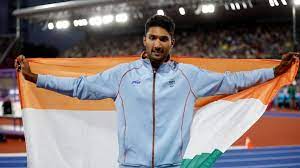 Tejaswin clinched bronze after he cleared 2.22m in his first try.
Tejaswin Shankar's Bronze in High Jump is also India's first in Track and Field at Commonwealth Games, 2022.
Commonwealth Games is a member-based organization that receives no funding from the government and exists to administer, control and coordinate the participation of sports events and the athletes, along with the officials of the commonwealth game
The 2022 Commonwealth Games are officially known as XXII Commonwealth Games and are generally known as Birmingham 2022.
In 1881, a new idea of having multiple games at one sports event was introduced by Astley Cooper. The Commonwealth Games is also known as the Friendly Games.
The Commonwealth Games are quadrennial which means it is held for four years.
The Indian team for the Commonwealth Games consists of 322 members which include 72 team officials, 26 extra officials, nine contingent staff, and three general managers.