The BRICS Contact Group on Economic And Trade Issues (CGETI):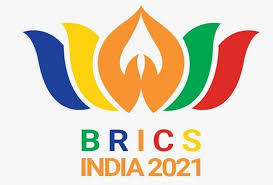 The BRICS Contact Group on Economic and Trade Issues (CGETI) leads held their first meeting under India's Chairship from 9-11 March 2021.
The theme of BRICS this year is -"BRICS@15: Intra BRICS Cooperation for Continuity, Consolidation, and Consensus".
India, under its Chairship in 2021, presented the calendar of events for BRICS CGETI 2021.
The deliverables proposed are on (i) BRICS Cooperation on Multilateral Trading system including cooperation for the TRIPS Waiver proposal at WTO; (ii) Framework for Consumer Protection in E-Commerce; (iii) Non-Tariff Measures (NTM) Resolution Mechanism; (iv) Sanitary and Phyto-Sanitary (SPS) etc.
BRICS is the acronym coined to associate five major emerging economies: Brazil, Russia, India, China, and South Africa.
Originally the first four were grouped as "BRIC" (or "the BRICs") before the induction of South Africa in 2010.
The term "BRIC" is believed to be coined by Goldman Sachs.