President's Colours Award: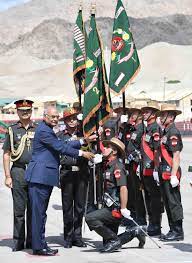 The Chief of Army Staff recently presented the prestigious 'President's Colours' to the Third Battalion of the Naga Regiment.
President's Colours Award is the highest honor that can be awarded to any military unit, military training establishments, or state/UT Police Forces of India.
It is bestowed upon a military unit in recognition of exceptional service rendered to the nation, both in peace and in war.
It is also known as "Rashtrapati ka Nishaan" in Hindi.