The Jan Vishwas (Amendment of Provisions) Bill 2023: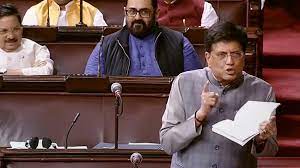 The Jan Vishwas (Amendment of Provisions) Bill 2023 is set to be taken up during the ongoing Monsoon Session of the Parliament.
The Bill was tabled in Parliament by the Union Ministry of Commerce and Industry (December 2022) and then referred to a Joint Parliamentary Committee.
Provisions of the Bill:
Decriminalising: 180 offences across 42 laws governing environment, agriculture, media, industry and trade, etc.
Completely remove/ replace imprisonment clauses: With monetary fines.
Compounding of offences in some provisions.
Removes all offences and penalties under the Indian Post Office Act, 1898.
Changes in grievance redressal mechanisms: Appointment of one or more Adjudicating Officers for determining penalties.
A periodic revision of fines and penalties: An increase of 10% of the minimum amount every 3 years for various offences in the specified Acts.
Objective of the Bill:
To redefine the regulatory landscape of the country with decriminalisation of minor offences under 42 Acts.
To reduce compliance burden and promote ease of living and doing business in the country.