Carbon Markets: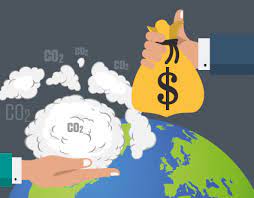 The Energy Conservation (Amendments) Bill, 2022, passed by the Rajya Sabha recently, has several significant features. It will foster a carbon market in India, through the creation of a National emissions trading system (National ETS).
Article 6 of the Paris Agreement provides for the use of international carbon markets by countries to fulfil their nationally determined contributions (NDCs).
Carbon markets are essentially a tool for putting a price on carbon emissions— they establish trading systems where carbon credits or allowances can be bought and sold.
A carbon credit is a kind of tradable permit that, per United Nations standards, equals one tonne of carbon dioxide removed, reduced, or sequestered from the atmosphere.
Carbon allowances or caps, meanwhile, are determined by countries or governments according to their emission reduction targets.
A United Nations Development Program released recently noted that interest in carbon markets is growing globally, i.e, 83% of NDCs submitted by countries mention their intent to make use of international market mechanisms to reduce greenhouse gas emissions.
Carbon markets:
There are broadly two types of carbon markets:
compliance markets : set up by policies at the national, regional, and/or international level— are officially regulated
voluntary markets : Voluntary markets are those in which emitters— corporations, private individuals, and others— buy carbon credits to offset the emission of one tonne of CO 2 or equivalent greenhouse gases.