Marital Rape In India : Report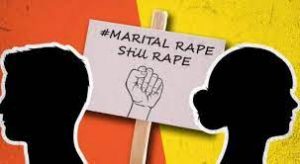 Out of 185 countries in the world, 77 have laws that clearly criminalise marital rape while there are 34 countries that explicitly decriminalise marital rape, or in essence, offer immunity to men who perpetrate rape against their wives.
India, is one of the 34 countries that have decriminalised marital rape.
Apart from decriminalising marital rape, it mentions that medical procedures or interventions shall not constitute rape.
Exception 2 of Section 375 of the Indian Penal Code states that "sexual intercourse by a man with his wife, and if the wife not being under fifteen years of age, is not rape".
Domestic Violence Act, 2005: It hints at marital rape by any form of sexual abuse in a live-in or marriage relationship.
However, it only provides for civil remedies.
There is no way for marital rape victims in India to initiate criminal proceedings against their perpetrator.