G20 TechSprint: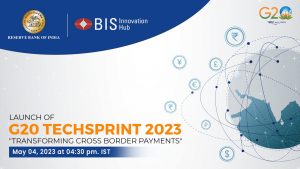 The RBI and Bank for International Settlements (BIS) launched the G20 TechSprint.
G20 TechSprint is a global technology competition.
The fourth and 2023 TechSprint is a joint initiative between the BIS Innovation Hub and the Reserve Bank of India.
It will focus on three problem statements on cross-border payments formulated by the RBI and the BIS Innovation Hub.
Technology solutions is to reduce illicit finance risk around anti-money laundering, countering the financing of terrorism and sanctions.
Foreign exchange and liquidity technology solutions: to enable settlement in emerging markets and developing economy currencies.
Technology solutions for multilateral cross-border central bank digital currency platforms.
The competition is open for developers around the world.
The shortlisted teams will be invited to develop their solutions over a six-week period.
Each team will be eligible for a stipend of eight lakh rupees approximately 10,000 US dollars.
An independent panel of experts will select the most promising solution to each problem statement from the shortlisted solutions.
The winners for each problem statement will receive an award of forty lakh rupees approximately 50,000 US dollars.