Grand Cross Of The Legion Of Honour: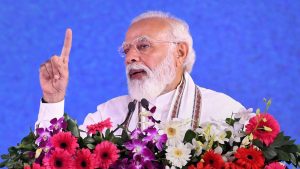 Prime Minister Shri Narendra Modi was conferred with the Grand Cross of the Legion of Honour, France's highest award today by, the President of the Republic of France.
The Legion of Honour is the highest French decoration given to the most deserving citizens in all fields of activity.
Established by former French emperor Napoleon Bonaparte in 1802, the Legion of Honour is divided into five degrees (lower to higher) – Knight, Officer, Commander, Grand Officer and Grand Cross. The PM was awarded the fifth honour.
The colour of the ribbon is red and the badge is a five-armed Maltese asterisk hung on an oak and laurel wreath. On the obverse is the effigy of the Republic and on the reverse two tricolour flags surrounded by the motto 'Honor and Fatherland' written in French.
Although the membership to Legion of Honour is restricted to French nationals, foreign nationals who serve France or uphold its ideals may also be given a distinction of the Legion.