Tholpavakkoothu: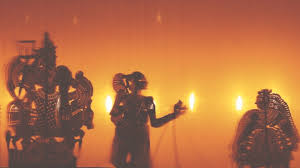 For the first time, Tholpavakkoothu, the famous shadow leather puppets will tell stories of the epic Ramayana with the help of robots.
Tholpavakoothu is a form of shadow puppetry that is practiced in Kerala, India.
It is performed using leather puppets as a ritual dedicated to Bhadrakali and is performed in Devi temples in specially built theatres called koothumadams.
This art form is especially popular in the Palakkad, Thrissur, and Malappuram districts of Kerala.
It is believed to have originated in the ninth century AD and uses Kamba Ramayana as its basic text.
The puppets used in Tholpavakoothu used to be made out of deerskin but are now typically made from goatskin.
The puppets are painted in vegetable dyes, as these dyes last long.