'Tianwen-1' Spacecraft: Landed Safely On The Surface Of Mars: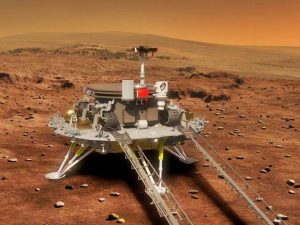 China's uncrewed 'Tianwen-1' spacecraft recently landed safely on the surface of Mars.
The spacecraft landed on a large plain located in the northern hemisphere of Mars, known as Utopia Planitia.
This makes China the second country in the world to send a rover to explore the mysterious Red Planet.
Onboard the lander was the 'Zhurong' rover, which will soon be deployed to study the Martian atmosphere and geology.
The Tianwent-1, China's Mars mission:
Launched in July 2020, the mission consists of an orbiter, a lander, and a golf cart-sized rover called 'Zhurong'.
The spacecraft arrived in Mars' orbit in February this year.