Tianwen-1: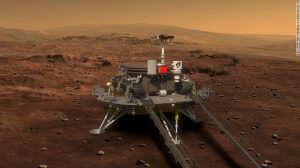 A Chinese spacecraft named Tianwen-1 has successfully entered orbit around Mars on February 10, 2021.
The probe entered the MARS Orbit after making the journey of 6 and a half months from the Earth.
This mission is China's first independent mission on the red planet.
After reaching near the orbit, the robotic probe initiated and completed its 15-minute burn of the thrusters.
The burning of the thrusters slowed down the speed of the spacecraft so that it could be captured by the gravity pull of the MARS.
The objective of the mission
Tianwen-1 mission will attempt to send a landing capsule that is carrying a 240-kilogram rover in a rapid seven-minute descent.
The rover will be sent to the northern hemisphere of Mars called Utopia Planitia.
After the rover is landed successfully, the solar-powered rover will be exploring the Martian surface for 90 days.
The rover will study the soil and study if any signs of ancient life, is present there.
It would also trace the sub-surface water and ice using the ground-penetrating radar.